For Release: Nov. 21, 1997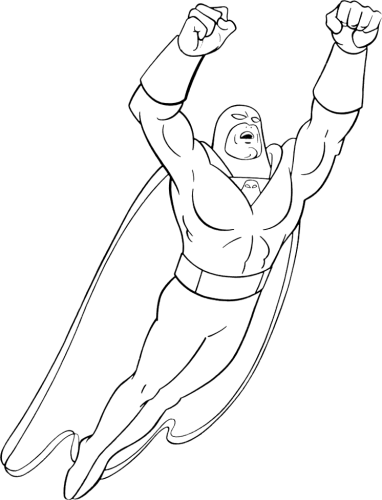 ---
Space Ghost Proves Musical Comedy is Universal
with Steve Allen and Andy Dick, Dec. 12.
If an eighteenth-century French comedy by Pierre Marivaux seems like unlikely material for a Broadway musical, consider the stir aroused in the theatrical community by the new musical episode of Space Ghost Coast To Coast, starring Steve Allen and Andy Dick, on Friday Dec. 12, at 11:30 p.m. (ET).
The deep space set comes alive like never before with 11 glorious numbers beautifully arranged within the 15-minute animated talk show. Space Ghost, Zorak and Moltar are joined by their old friend, Brak, who performs a melodic "Man on the Street" duet with the originator of the popular skit, Steve Allen. Andy Dick and Space Ghost display a remarkable chemistry in their inspiring rendition of "Clickety Click." In a delightfully raucous ensemble finale, Lokar makes a splendid appearance, adding a taste of intergalactic erudition to the talented cast.
"When you're a ghost, you're a ghost all the way, from your inviso belt to your destructo ray," sings Space Ghost, host of Space Ghost Coast to Coast.
Cartoon Network, currently seen in more than 45.8 million U.S. homes, is Turner Broadcasting System Inc.'s 24-hour, basic cable service offering the best in animated entertainment and drawing from the world's largest cartoon library. Cartoon Network also showcases unique original ventures such as Johnny Bravo, Cow & Chicken, Dexter's Laboratory and World Premiere Toons. Since its launch in 1992, Cartoon Network has remained one of basic cable's highest-rated networks.
-30-
CONTACTS:
Atlanta
Frederika Brookfield/Paul Siefken
(404) 885-4205/0217
New York
Stanka Luna
(212) 852-6858
*TAPES AVAILABLE UPON REQUEST*
---
Ghost Planet
Theatre Company
presents
STEVE ALLEN · ANDY DICK
SPACE GHOST · ZORAK · MOLTAR
BRAK · LOKAR
O COAST TO
COAST
Music by EDDIE HORST and SONNY SHARROCK
Lyrics by DAVE WILLIS, ANDY MERRILL, PETE SMITH and
CHIP DUFFEY
Original animation by
C. MARTIN CROKER
Producers
DAVE WILLIS
CHIP DUFFEY
ANDY MERRILL
PETE SMITH
Line Producer
JIM FORTIER


Casting by
ISABEL GONZALEZ
Voice Acting by
GEORGE LOWE
CLAY CROKER
ANDY MERRILL
Executive Producers
KEITH CROFFORD
MIKE LAZZO
---
MUSICAL NUMBERS
| | |
| --- | --- |
| "I Can't Believe We Got Steve Allen!" | Space Ghost, Moltar and Zorak |
| "I Am But a Mantis" | Zorak (with Space Ghost) |
| "My Linda" | Moltar |
| "I Got A Lot of Snackin' To Do" | Space Ghost, Moltar and Zorak |
| "Come and Get It" | Space Ghost, Moltar and Zorak |
| "On the Street" | Brak |
| "It's Been Great" | Brak |
| "I Can't Believe We Got Andy Dick!" | Space Ghost, Moltar and Zorak |
| "Down in the Holler" | Moltar |
| "Clickety Click" | Andy Dick and Space Ghost |
| "It's Time for the Finale!" | Space Ghost, Zorak, Moltar, Brak and Lokar |
---
WHO'S WHO IN THE CAST
Steve Allen--Guest
Steve Allen is a comedian and creator of the Tonight Show. he is a composer, singer, producer, conductor, a songwriter of more than 4,000 songs, and the author of 38 books. He is a political activist, a Humanist Laureate for the Acadamy of humanism, and the producer of the award-winning PBS-TV network series Meeting of Minds, a "talk show" with some of history's most significant figures, with Mr. Allen acting as host. His tireless efforts on behalf of the promotion of science, skepticism, and humanism have kept these movements on the cutting edge in the media and popular culture. His book Dumbth was a national bestselling social commentary on the state of US education.
Andy Dick--Guest
Best known as Matthew on "News Radio," Andy Dick's work in television commercials led him to a meeting with fellow actor/writer Ben Stiller, who cast him in the short film, "Elvis Stories." Dick's feature film credits include "Flashback," "Reality Bites," (again paired with director, Ben Stiller) "In The Army Now" and "For The Boys." His recent television credits include "Get Smart," in which he co-starred with Don Adams and Barbara Feldon, as their son, in the '90s version of the '60s hit series, as well as appearances on "The Nanny," "The Ben Stiller Show," "Anything But Love," "Bagdad Cafe" and "Sydney." The young actor's theater credits include "The Best of Second City," "Sony & Shares," "Andy Dick's Circus Of Freaks," "Without A Net" and "Willard Scott Dancers." He attended Illinois Wesleyan University and Columbia College/Chicago.
Dick is also known for his frequent appearances on "Late Show With David Letterman" as Donnie "the page who likes to suck up," and Ben, "the guy who really likes milk." Dick spends much of his time in what he calls, "the underground alternative comedy scene" in Los Angeles. He hopes to soon open his own comedy showcase theatre in Los Angeles.
Space Ghost--Host
Space Ghost is a cartoon superhero who made his television debut in 1966 as part of the Hanna-Barbera series The Space Ghost and Dino Boy. As designed by Alex Toth, a comic book artist admired by William Hanna and Joseph Barbera, Space Ghost is a black-hooded, yellow-caped interplanetary crusader who rockets through space in a sleek Phantom Cruiser. In each of the original episodes, Space Ghost had seven minutes to save the universe, using an array of devices such as an Inviso-belt that rendered him invisible. As host of SPACE GHOST COAST TO COAST, the scenery has changed, but not the superhero's accouterments. Still equipped with his arsenal of gadgetry, Space Ghost's current crusade is the late-night talk show wars. Each week, Space Ghost steers his show with bravado, combining a no-nonsense interview style with beguiling charm and extremely destructive power bands.
Zorak--Band Leader
As a green creature with a wicked cackle, Zorak starred as Space Ghost's nemesis in several of the original The Space Ghost and Dino Boy episodes, "Zorak" and "The Deadly Trap" among them. As leader of The Original Way Outs, however, Zorak has been forced to trade in his Matter Intensifier for a keyboard. Space Ghost freed Zorak from Omegan Prison for the sole purpose of fronting the show's house band. Critics planet to planet have praised his unique sound as being "worthy of someone who resembles a praying mantis." Clearly, Zorak has mastered the keyboard with fervor, validating Space Ghost's long-held advocacy of a prison-release musical training program.
Moltar--Director
Another villain of old, Moltar is well known among Space Ghost circles as the lord of mighty ovens that can incinerate any and all foes. On SPACE GHOST COAST TO COAST, however, he oversees the show's pacing and technical details such as lighting and the choice of camera shots. Like Zorak, his begrudgingly cooperative colleague, Moltar arrives in his new position from years of training as a prisoner, where he directed several performances of an acting corps made up of fellow inmates. Moltar wishes to thank his wife, Linda, for her continued love and support.
Brak--Space Cat Buccaneer
Brak is an alien who talks funny. Sure, he once had a partner known as Sisto in original series' episodes like "Lure" and "The Looters," but somewhere along the way to his frequent appearances in SPACE GHOST COAST TO COAST and popular starring role in Cartoon Planet, Brak clearly fell victim to the kind of bad space karma that renders aliens giggly, nervous and sounding like your Uncle Bubba. Intriguingly, Brak turned in a cameo in one of the first COAST TO COAST episodes, "Spanish Translation," during a commercial for "Zorak and Moltar Sing Your Favorite Lullabies."
Lokar-- Extraterrestrial Extraordinaire
Lokar first bathed in the spotlight as "King of the Killer Locusts" in the episode of The Space Ghost and Dino Boy of the same name. Brimming with enthusiasm, r-r-r-rolling his vocabulary off his tempestuous tongue like dice onto felt, Lokar is an alien of unabashed enthusiasm and panache. Whether savoring the budding blossom of television stardom or dashing off to exotic locales and indulging his passion for rare antiques, Lokar--a confirmed bachelor--is an alien with true swing.
Good luck to the cast of Space Ghost Coast to Coast!

from

GHOST PLANET
DRY CLEANERS &
WASHETERIA
capes pressed
tights deodorized
lava suits insulated
exoskeletons recycled
Moltar and Zorak,
You are truly evil!
Make Space Ghost
suffer!

your buds,
Metallus,
Tansut &
Black Widow
Gosh, Space Ghost, we'd sure like to be on your show. Why don't you return our letters anymore?

Jan, Jace and Blip
Inviso Power to the Max!
Killer Starship Stereos!
Rayguns, Rayguns,
Rayguns!
Creature King's
Audio, Video &
Weaponry
Conquered the
universe?
Saved the planet from
space piranha?
Galaxy Trio Trophies
has awards for every
occasion.
$ BEEF LOGS $
Buy one get one free
With this ad
$ BEEF LOGS $
only at Space Eleven
stores
SYSTO'S
ORTHODONTICS
If you have teeth
or
a metal ventilator
I CAN STRAIGHTEN
THEM
new space age
technology
VOODOO SPELLS
Papa Zorak
Specializing in removing
annoying individuals
VOODOO gets results
To Tad:

Good luck, Goody Two-Shoes!
I'll be watching.

Love Chad
A $10 ad just to show I'm not bitter. What a rip!

Birdman
ANY LAB TEST
DONE
Human or non-human
DNA
Parasite
Private, confidential
walk-ins welcome
Frankenstein, Jr. Labs
VIRTUAL REALTY


I want to sell YOU
a rock on Mars!
contact the Chipster
fast reliable, cheap
SENSITIVITY
TRAINING
Turn that frown upside
down!
Seminars include:
Open arms/Open mind
Peaceful, easy feelings
&
Warmth in the workplace
Michael's House of
Benevolence