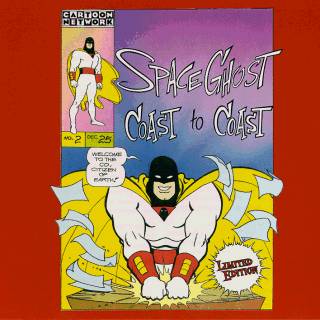 ---
We wouldn't kid you. These are indeed the Space Ghost Coast to Coast deluxe sampler platter compact disc liner notes. How'd you ever find us? By now we all know the story. Aging superhero finds new life as nineties talk-show host, blah blah blah-bity blah.
What you didn't know is that each Space Ghost Coast to Coast show has its own little story, stories that can't (and won't) be shared anywhere else. So consider yourself an insider. Then pat yourself on the back for conquering that irritating shrink wrap packaging. Say, you really are chalking up the points.

Episode 1. "Spanish Translation." April 15, 1994.
Here we go. The Bee Gees are laughing because there's a guy sitting across from them in an ill-fitting Space Ghost suit. The Brothers Gibb have just arrived from a Howard Stern taping (and might possibly have been drinking, but our attorneys...). Marvel at the resulting giggle fest.
Episode 2. "Gilligan." April 22, 1994.
See that guy with the hat? That's not really Bob Denver. Okay, we're kidding. The amazing thing is, none of these people knew they would be on the show together. It's true. Our crack Space Ghost booking crew (Keith Crofford, at the time) assembled all of the guests separately, then we flung them all into the bubbling cauldron of creativity to see what might pop us in the eye. Don't try this at home.
Episode 3. "Elevator." May 6, 1994.
This is actually the first Space Ghost Coast to Coast show, although it got held back like a poor student. Next time you see this one, with Judy Tenuta, Timothy Leary and Ashley Judd, ponder the significance of witnessing the very first Space Ghost interview ever taped (Judd) and then wonder why everyone seems so nervous. Give us a break, it was our first show!
Episode 4. "CHiPs." May 13, 1994.
Woe but that we had only taped Eric Estrada in time for this one. We tried, but he was, er, really busy. Instead we all listened to Bill Carter and Joe Franklin go on and on about this thing and that thing and, hey -- isn't there a story here? No, there isn't.
Episode 5. "Bobcat." May 27, 1994.
Wanna hear something fascinating? That's Andre Agassi starring as Bobcat. Don't tell everyone.*
Episode 6. "Punch." Sept. 16, 1994.
Dian Parkinson and Space Ghost did it -- the interview, of course. Then she tried out Inviso-Power. Haven't seen her since.
Episode 7. "Banjo." Sept. 10, 1994.
"Weird Al" Yankovic is the first guest to ever ask to be on the show. We liked his hair.
Episode 8. "Batmantis." Sept. 30, 1994.
Boy, think Adam West wasn't steamed after this one? A couple of months after its debut, a number of Space Ghost staffers sat quietly at a comic book convention booth as Mr. West walked up, paused and glared, then continued on. Thank God he didn't ask about the ratings.
Episode 9. "Self Help." Oct. 7, 1994.
Rich Hall has a thing about Sniglets; like, he won't do them anymore. Here's one for Rich. Nirnial -- The state of euphoric denial achieved by a comedian trying to forget his or her past. Just kidding, Rich.
Episode 10. "Gum, Disease." Nov. 11, 1994.
Still the most pain inducing title in all of Space Ghost history, with the possible exception of "President's Day Nightmare," if you're a longtime Space Ghost staffer. Branford Marsalis was one of the most charming guests ever to appear on Space Ghost Coast to Coast, one who was intimately familiar with SG as a Saturday morning action adventure star.
Special. "President's Day Nightmare." Feb. 20, 1995.
An "episode" created under the mandate that the show's producers create a nifty premiere special for its World Premier Toons cartoon series. Not bad, when you consider what it could have been.
Episode 11. "Story Book House." March 17, 1995.
Two Canadian gentlemen, James Kirkconnell and Carl Clark, had approached the production department about developing a new children's show for Cartoon Network, built around a simple storytelling theme. Kirkconnell would portray Kirk the Storyteller, and his cohort, Clark, would become Carl the Cartoonist. Although not immediately impressed by the proposed show's ability to draw young viewers to Cartoon Network, Lazzo and Crofford both thought the two had the potential to create a unique Space Ghost episode. This is it.
Episode 11A. "Le Livre D'Histoire." June 9, 1995.
The addition of Lokar and the electronic marriage of "Storybook House" and "The Mask," an episode created for the New Line Cinema home video release of "The Mask."
Episode 12. "Girlie." March 24, 1995.
Alice Cooper is not a girl, but Lord knows he sings like one.
Episode 14. "Hungry." March 31, 1995.
Lassie's trainers: "Lassie is not a circus dog." Space Ghost producers: "Space Ghost is not a cartoon."
Episode 15. "Fire Drill." June 2, 1995.
Donny Osmond is a close personal friend of the gentleman who provides the voice of Space Ghost, George Lowe. At least he was up until this aired. Remind us to check in with Donny.
Episode 16. "Sleeper." July 28, 1995.
Slash really understood the show. He's just pretending here. Really.
Episode 17. "Jerk." Aug. 4, 1995.
Palmer Mills is the father of Barry Mills, producer and creator of TNT's Rudy and Go Go's World Famous Cartoon Show. Thought you'd like to know.
Episode 18. "Urges." Oct. 20, 1995.
Writer Joel Hodgson, of Mystery Science Theater 3000 fame, asked to write an episode. Whaddya want, gossip? Okay, he has a "writing partner" named Nell Scovell. Sounds fishy to us.
Episode 19. "Explode." Feb. 2, 1996.
Here's the thing. Terry Jones think he's doing a live satellite hook-up with Regis & Kathy Lee.
Episode 20. "$20.01." Feb. 9, 1996.
That's Space Ghost producer Keith Crofford as MOE 2000.
Episode 21. "Lovesick." Feb. 14, 1996.
Actually turned out the way it did because of a failed relationship suffered by Mike Lazzo, producer and creator of Space Ghost Coast to Coast.
Episode 22. "Transcript." Feb. 23, 1996.
Some people still don't know who Jonathan Richman is. Then again, some people still thing Space Ghost is a kid's show.
Episode 23. "Sharrock." March 1, 1996.
Thurston was actually kind enough to allow us to tape a guitar improv jam session for this much-delayed tribute to the late Sonny Sharrock. Didn't get to use the footage, unfortunately. But you never know...
Episode 24. "BOO!" March 8, 1996.
We didn't know who Micheal Norman was either, but someone assured us he was a really nice ghost expert. Turns out he was.
Episode 25. "Freak Show." May 22, 1996.
Remember this next time you listen to Brak or Lokar. The guy who gives them voice is "Commander Andy," the video pirate in this unique Space Ghost episode. Now go lay down somewhere.
Episode 26. "Switcheroo." June 5, 1996.
Susan Olsen and Elvira were good at showing up and talking and stuff. And their hair color was really quite a contrast.
Episode 27. "Surprise!" June 19, 1996.
We were all delighted with this episode, because it got a boatload of publicists off our backs. "Yeah, we used that interview with the American Gladiators. They're between, um, Judy Tenuta and Method Man."
Episode 28. "Glen Campbell." Oct. 9, 1996.
See, Glen Campbell isn't actually in the show. It's just the title. The first two-part episode in the history of Space Ghost Coast to Coast. Space Ghost Producer Dave Willis doubles as the loner on the bus.
Episode 29. "Jacksonville." Oct. 16, 1996.
Cartoon Planet fans express dismay over Brak's revelation that he may be pregnant.
Episode 30. "Late Show." Oct. 23, 1996.
Written by two former Late Show With David Letterman writers, Spike Feresten and Steve O'Donnell.
*This is a big fat lie.
---
SOUND SUMMARY
Sonny Sharrock agreed to provide the theme music for Space Ghost Coast to Coast after listening to producer Keith Crofford's description of the show. According to Crofford, Sharrock thought the show sounded "cute." On Friday, Nov. 19, 1993, Sharrock and Lance Carter, his drummer of choice, met at Quantum Sound Studio, a recording studio in Jersey City, N.J., to improvise over a guide track created by Atlanta musician Eddie Horst. Horst fondly recalls Sharrock looking up after a particularly blistering take and asking, "Was that too melodic?" The ensuing session not only passed muster for the show's theme song, it also inspired this limited-edition compact disc. Horst served as producer and played all other instruments on the tracks. The vocals of Alfrieda Gerald were added at a later date. All the disparate elements were mixed by the show's sound designer, Roy Clements.
Below are brief biographies of key musicians.
Sonny Sharrock
Sonny Sharrock was drawn to jazz after hearing John Coltrane on Mile Davis' "Kind of Blue." Sharrock determined that he, too, would be a tenor saxophonist, but asthma quelled his dream. He reluctantly took up the guitar as a second choice. Sharrock toured and recorded with renowned artists such as Pharoah Sanders, Don Cherry, Cannonball Adderley, Herbie Mann and Miles Davis. He also issued a series of albums under his own name. In the late '70s, he disappeared from the scene for several years, resurfacing in 1980 with Bill Laswell's Material. In 1985, a solo album, "Guitar", launched a new phase of Sharrock's career. The following year, he made history as one-quarter of the band Last Exit, whose eruptive music suggested an amalgam of free jazz and metal. Last Exit issued six albums, while Sonny Sharrock put out another four, including "Seize the Rainbow" and "Ask the Ages." Sharrock died of heart failure at age 53 on May 26, 1994, a mere six months after this session for Space Ghost Coast to Coast.
Eddie Horst
Eddie Horst is a composer living and working in Atlanta who has been a professional musician for over 25 years. He attended Berklee School of Music in Boston, Mass., and later went into business for himself as owner of the Atlanta-based Eddie Horst Music in 1984. Horst writes, arranges and produces music for a multitude of commercials and television scores whose numbers include CBS' acclaimed series In the Heat of the Night. He has also scored music for films, including two made-for-television In the Heat of the Night movies and an upcoming feature film entitled Smooth Operator. Horst continues to broaden his range, recently composing a full-scale orchestral work entitled "Journey to Atlanta," an orchestral overture that takes its inspiration from the Olympics. Horst's most recent project is a series of string arrangements for Rowdy Records, owned by acclaimed producer Dallas Austin.
Alfrieda Gerald
Alfrieda Gerald is a professional R & B vocalist whose commercial work has included advertisements for Coca-Cola, General Motors Corporation, McDonald's, MCI and others. As one of the featured vocalists with the fifteen-piece Rupert Orchestra, she has toured nationally. Gerald received ten years of classical training before going professional.
---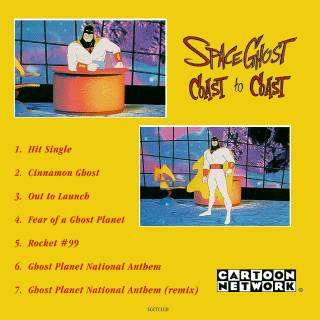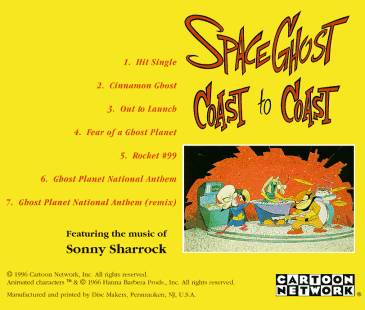 © 1996 Cartoon Network, Inc. All rights reserved.
Animated Characters TM and © 1966 Hanna Barbera Prods., Inc. All rights reserved.
---